Safed Musli (Chlorophytum borivilianum)
There are many general tonics available in the market that helps to increase the immune system. Many herbal energy boosters are also available and it becomes very difficult for a person to select the best tonic for boosting up the immune system. Safed Musli is one of the best natural and herbal energy boosters that help to improve the immune system as well as cure sexual problems.  It is also used as a general tonic and diet supplement due to its high nutritional value. This is used traditionally for boosting up the immune system and for the treatment of general debility.
Benefits of Safed Musli:
It highly useful for people suffering from Erectile Dysfunction, sexual weakness, low sperm count and low libido
Curative for Physical weakness and many illnesses
Musli is a very good nutritive tonic.
Helps in enhancing male potency and overcoming signs of fatigue
Strengthens the general immune system of the body as well as reduce cholesterol level of the body.
Regarded as an energy booster in asthmatic conditions
Control and prevent obesity and its side effects.
Used as a remedy for diabetes and Arthritis
How to use Safed Musli:
Power the raw Musli (If purchased in raw form, else skip this step).
Take 1tbsp( approx. 8 grams) safed musli powder in the morning and 1 in the evening along with milk or water. Having the powder along with milk gives better results as compared when taken along with water.
You can also add ashwagandha powder, Shatavari powder to this mixture.
Precautions and side-effects:
It is a safe and effective medicine, without any reported side-effects and hence can be used without any worries.
Avoid/Minimize use of lemon(Neembu) while having its course.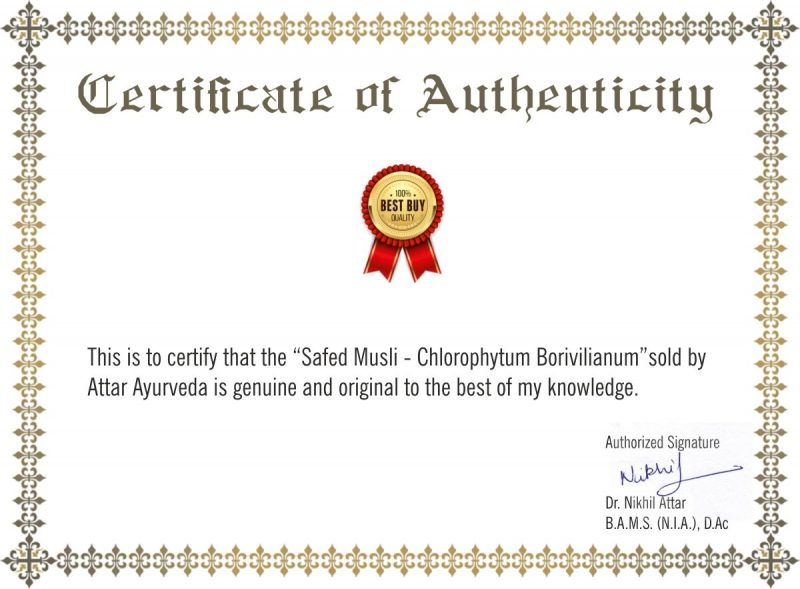 Other Names: Safed Moosli, Shwet Musli, Dholi Musli, Dhori Musli, Khiruva, Shedheveli, Swetha Musli, Taniravi Thang, Chlorophytum Borivilianum