Sabja Seeds for Weight Loss, Body Cooling
Sabja Seeds or Basil Seeds or Babchi Seeds is a superfood with some rich amount of protein, iron, calcium, fiber, and omega 3, 6 fatty acids. It also contains a good amount of antioxidants, carbohydrates, and vitamins.
It helps in treating obesity, controls diabetes, digestion-related problems, skin and hair problems, and other health problems.
These seeds are very effective in cooling your body from inside making you feel fresh and rejuvenated.
Other Benefits:
Helps in Weight Loss – It contains a high amount of protein and fiber that help in decreasing calorie intake and also helps you lose weight.
Helps Control Diabetes – It has anti-diabetic properties that control the conversion of carbohydrates into glucose which in turn helps in controlling blood sugar levels.
Body Cooling – It has natural cooling properties which help in reducing the body heat when consumed during summers.
Relieves Constipation and Bloating – It contains high fiber content which helps in treating constipation improving bowel movement. It also contains volatile oils that help in releasing gas from the gastrointestinal tract which gives relief from bloating.
Healthy Skin and Hair – High amount of protein, vitamins, antioxidants, and flavonoids help in maintaining hair and skin health.
Helps in Neurological Disorders – Gives relief from depression, stress, mental fatigue and also provides a calming effect on your mind.
How to Use Sabja seeds?
Soak 1 teaspoon of Sabja seeds in 250 ml of water overnight. Add syrup, sugar, or any other sweetening agent to it in morning according to taste.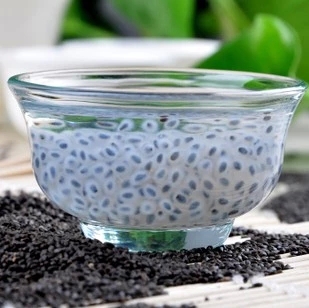 Tags: Takmaria – Tukmaria