Common names: Gond Katira, Tragacanth gum, Katheera, Haloosiyaa, Dink
Botanical name: Astragalus Gummifer
Gond Katira Drink:  
A delicious drink for relieving the summer heat. It helps you to cool your body and mind
Ingredients:
Gond Katira – Approx. 5 grams
Sugar – 1 tbs
Water
Crushed ice
Soak Gond Katira in approx. 100 ml of water overnight. It will get soft and fluffy until the next morning. You will also see an increase in the volume of Gond Katira. Wash it with clean water thoroughly in order to remove any impurities. Now, once again put it in a glass of water and add sugar to it. Stir it well. Add crushed ice. Your delicious Gond Katira drink is ready to be served. You can add Rose syrup instead of sugar as per your taste.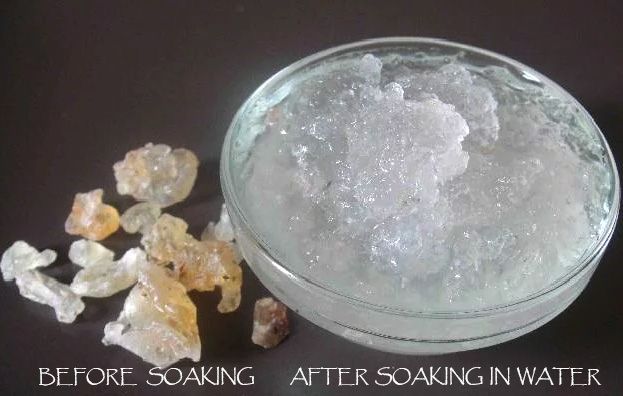 Medicinal Uses:
Heat stroke: It acts as a cooling agent in the body, thus preventing us from heat stroke.
Laxative: It has the qualities of laxative and so it helps in constipation.
Breast size: It helps to increase the breast size in women.
In Pregnancy: Gond Katira laddoos are very beneficial in pregnancy.
It is believed that Gond Katira might have anti-tumor properties & could stimulate the immune system. It also helps in urinary incontinence (Involuntary urination). It has both cooling and heat producing effects. In summer, it is soaked in water and after some time, it becomes fluffy and soft. Consuming it in this form in summer helps to cool our body. In winter, it can be fried and then ground to a fine powder form. It can also be added to many sweets. In this way, it generates heat in the body.