Vetiver/Khus/Lavancha Roots
Vetiver/Khus has been known in India from the ancient times. It can be considered as a high-class perfume and has cooling properties. As per the Ayurvedic literature, it is also called 'Sita-mulaka' (having cool roots) and 'Suganti-mulaka' (means sweet smelling). It should not be confused with Khash – Khash (Poppy seeds).
In major parts of India, its roots have been woven to make fragrant mats, fans, ornamental baskets and many other small articles for hundreds of years. In summers, the doors and windows are covered with the Vetiver/Khus root fiber mats and water is sprinkled on them from outside. This emits a fragrance and keeps the rooms cool until the moisture vaporized.
The aroma of Vetiver/Khus roots is uplifting, relaxing, and comforting. It cools the body and mind from excessive heat. These thin aromatic roots are used in incense burning. It produces an earthy, sweet, heavy, relaxing fragrance when added to incense mixtures in small quantities.
Vetiver/Khus Sharbat (Syrup):
Khus Syrup is a dark green syrup with a sweet, refreshing, woodsy flavor and scent, made by the extract of the roots of dried Khus grass/ Vetiver. Let us learn its preparation procedure:
Preparation time: 
Cooking time: 
Preparation quantity: 1 liter
Ingredients :
Approx. 50 to 60 grams of Khus/Vetiver (Ramacham in Malayalam)
5 cups of water i.e. 1250 ml
Approx. 600 grams of sugar
Procedure :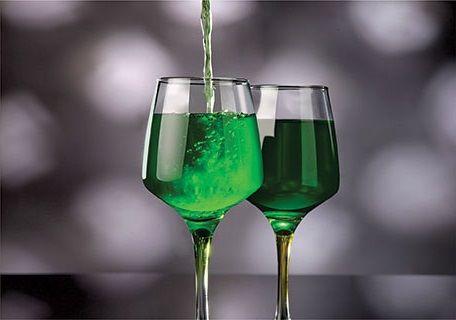 Remove the thick portion (the encircled portion as in the above image) if any, from the Khus roots with a kitchen scissor and discard it.
Rinse the Khus roots very well in running water. There might be some mud particles and/or stones in it.
Chop the Khus roots with a kitchen scissor into smaller lengths. Soak it for approx. 12 hours in the water at room temperature.
Strain this solution through a juice strainer and collect the filtrate solution/extract in a bowl. Squeeze the chopped soaked roots carefully so that all the water is drained. Discard the Khus roots.
Add sugar to the extract and stir well.
Keep the Khus extract on the stove top (on low heat) and keep on stirring so that the sugar gets dissolved.
When the sugar is completely dissolved, let it comes to a boil and cook till thickened to a One thread consistency i.e. take a drop of the mixture in a spoon and let it cool it to the room temperature and then press the drop between your thumb and forefinger, a thread should form when you separate the finger and the thumb.
Filter the hot Khus Sharbat directly in a clean glass jar or bottle. You can use a funnel. Alternatively, you can filter the hot Khus Sharbat in a bowl or pan and then pour the syrup into a clean sterilized jar or bottle. Be very careful while pouring the hot syrup to avoid any burns or injuries.
Cover the bottle/jar firmly with its lid and let it cool at room temperature.
You can refrigerate the Khus syrup if desired.
Serving :
Pour 1 tablespoon of Khus Sharbat and 1 teaspoon of Kewra water (optional) in a glass.
Add chilled water to fill ¾th glass and top with 1 teaspoon of soaked Sabja seeds and crushed ice cubes.
Serve immediately.
---
Vetiver/Khus water:
Vetiver/Khus roots are used to make potable water. This prepared water is said to have almost all the qualities of Usheer( Khus roots ) but in slightly lesser intensities. This water also helps in painful urination.
1. Take a few grams of Vetiver/Khus roots, twist them and make it into a bundle.
2. Take a clay pot (recommended), wash it and place the Vetiver/Khus root bundle inside the pot.
3. Boil a required quantity of water and then cool it down to room temperature. Fill the pot with this water. Cover it and let it sit for around 3 – 4 hours. The Vetiver/Khus roots essence will infuse into the water.
4. Strain the water and use it.
Note:
The amount of Vetiver/Khus roots to be added is an individual choice. But this water can be very aromatic, so add Vetiver/Khus roots according to your taste.
Once the Vetiver/Khus roots are put into water, the water should be used within 10 – 12 hours.
Every day, water, and Vetiver/Khus roots should be replaced with fresh ones.
Always use clay pots, especially during summer months as it also helps to keep the body cool.
 Benefits and Applications
It has wide applications in perfumes and cosmetics, and for scenting soaps. It blends well with the oils of rose, sandalwood, and patchouli.
Vetiver/Khus root is used to create a tonic bath, which is the reason it is often included in high-quality soaps.
The mats made from Khus roots are hung in the house, to cool rooms during summer. Moreover, they even add a pleasant aroma to the house, when sprinkled with water occasionally.
The herb is tied in a muslin cloth and added to the earthen pots filled with water, to lend its distinctive flavor and aroma to it.
Sharbat of Khus is given in summer to avoid burning micturition and dysuria.
Blood purifier because of 'Tikta' Rasa.
Strengthen the brain and nerves. It is also useful in unconsciousness, vertigo, and brain disorders.
It is useful in burning, thirst, and temperature associated with fever.
Corrects the digestive system and benefits in nausea, vomiting, and diarrhea.
Gives strength to the stomach. It reduces gastric secretion and hence, is useful in acid-peptic diseases.
It has anti-inflammatory and antiseptic effects that provide relief from inflammations in the circulatory system and nervous system.