Sabja Seeds – Takmaria – Tukmaria – Sweet Basil seeds – Babchi
Sabja seeds are used to cool the human body from inside keeping you fresh and rejuvenated. They are mainly used in the summer season and very effective cool down your body.
How to Use Sabja seeds?
Soak 1 teaspoon of Sabja seeds in 250 ml of water overnight. Add syrup, sugar, or any other sweetening agent to it in morning according to taste.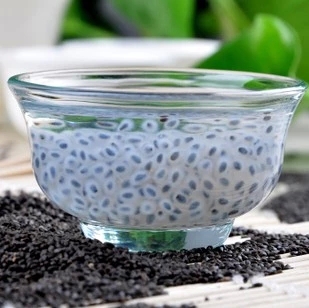 Other Benefits:
Basil seeds are THE BEST source of Omega-3 & 6 essential fatty acids.
These seeds are perfect for diabetics & people watching or trying to lose weight.
They are also very beneficial to the heart and extremely high in fiber and calcium.
Quality protein slowly processed carbohydrates, vitamins & minerals and antioxidants.
The health benefits of omega-3 fatty acids are becoming widely known.
5 times the calcium of milk, 631 mg per 100 grams of seed.
They are also high in protein, with 18 grams per 100 grams of seed.
The optimum ratio of omega-3 to omega-6 should be 3:1.
Sabja seed is hydrophilic: absorbing up to 14 times (Mix @ 9-10 times) its weight in water.
They help extend energy and endurance.
It is rich in antioxidant oils.
They are also low in sodium, only 19 mg per 100 grams.
It is also known as Bapchi seeds.